"Twenty years from now you will be more disappointed by the things you didn't do than by the ones you did do. So throw off the bowlines. Sail away from the safe harbor. Catch the trade winds in your sails. Explore. Dream. Discover."

- Mark Twain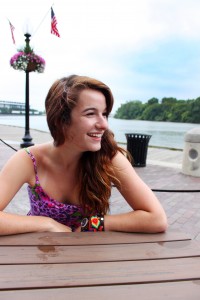 Hello! My name is Madeline (Maddie) and welcome to my blog, See. Like. Blog. A few things you should know about me right off the bat: I am a junior at American University in Washington, DC and up until a few weeks ago, I was perfectly fine living a life of few adventures. I am a creature of habit and have created a lovely life for myself inside my comfort zone; I know what I like — whether it be the food I make or consume, the places I go, or the people I see — and I rarely venture outside of this happy world. This lifestyle has worked for me… that is, until I watched Tangled and realized I needed a serious change.
For those of you who aren't familiar, Tangled is a Disney adaptation of the story of Rapunzel. The movie begins with the main character singing about her day-to-day life in her tower– and as I listened, I thought that the song sounded very close to all of the things I like to do in an average day: read a book, bake, cook, craft, etc. And then the chorus blasted through the TV speakers: when will my life begin?
See. Like. Blog. will document my personal journey as I take steps outside of my comfort zone and really start living– exploring the neighborhoods of DC I have never seen, cooking dishes I have never tried, and simply finding adventure in my day-to-day life. I look forward to sharing this journey with you– every day is a learning experience, so if you have feedback, share it!