Today's outfit post draws inspiration from two sources: first, my absolute favorite blogger/idol Emily Schuman of Cupcakes and Cashmere and second, Rumi Neely of Fashiontoast. Neely's minimalist way of dressing sometimes frustrates me, but other times I can really appreciate her aesthetic — she's definitely a less is more, quality over quantity, monochrome kind of girl. Schuman's style is a bit more approachable and I have gathered a lot of inspiration from her ability to seamlessly integrate different textures, patterns and colors in each of her looks. Her style communicates this classic effortlessness, something I always want to achieve when I'm picking out what to wear.
This look is centered around the bib necklace I received in yesterday's care package, passed down from my grandma Lee:
I wanted to juxtapose the sweet girly look of the necklace with something a bit edgier. I immediately reached for one of my favorite pieces in my closet — a black faux leather skirt I picked up at Buffalo Exchange for a cool $13.00. To balance out the skirt, I opted for a loose fitting linen tank top and some black booties.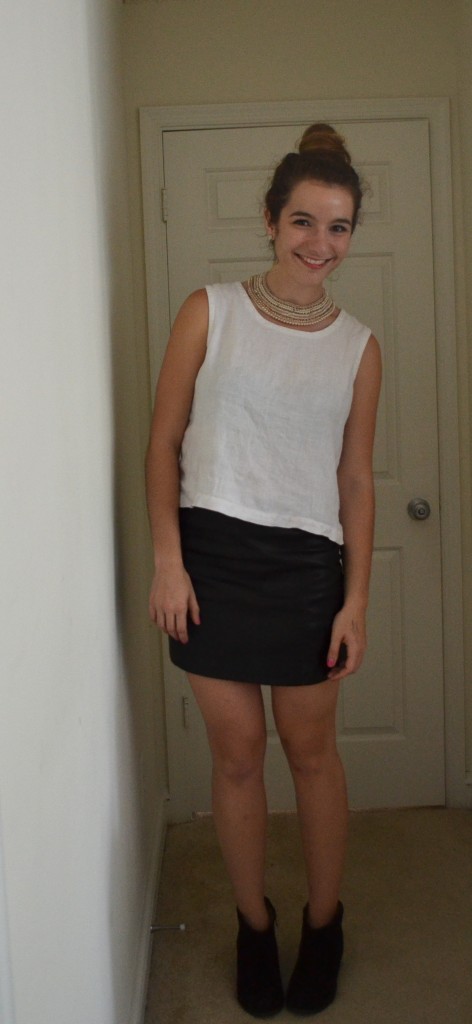 I just like how this outfit makes me feel — it's a happy little union of hard and soft, like "I'm a biker chick who also likes cupcakes and art and indie music."
… or you know, something kind of along the lines of that. I topped it off with a subtle red lip stain and a super messy top knot (with maybe one too many flyaways for my taste, but who's counting?). The weather in DC has been pretty strange the last couple of days — overall really humid with temperatures ranging from the 60s to the 80s. This reality has forced me to reign in my "OH MY GOD, IT'S FALL I NEED TO WEAR SWEATERS AND BOOTS AND TIGHTS ALL THE TIME AND NOTHING ELSE EVER" attitude. Sweaters and humidity are two words that should never be associated together. Linen and humidity, however, is slightly better.
Do you guys have any other suggestions of how to wear this bib necklace? Maybe with a collar? More sweet sartorial stories and awesome alliteration-filled adventures to come.
♥