Looking at my calendar this morning, I realized that we've got about 2 1/2 weeks left of October, which means only 2 1/2 weeks until Halloween. In other words, it's crunch time. I was about to cave and buy a Wonder Woman costume off of Amazon, but something stopped me from pressing that oh so convenient/tempting/dangerous 1-Click order button. Thinking back on my past halloweens, I don't think there was ever a year where I simply bought a costume. Last year was particularly memorable: I wrapped myself in duct tape, photoshopped a Natty Light beer logo to say "Maddy Light" and stuck a duct tape pop top to my head. It. Was. Great. So instead of squandering my creative energies on a holiday where creativity is the absolute key to success, I decided to do some brainstorming and come up with my list of the very best DIY Halloween costumes — hopefully this will give you guys some inspiration as well before you go running for the nearest Halloween super center.
Best Overall Costume: Katy Perry
I know, I know, this might seem like a shocker — why on earth would a mainstream popstar get the number one spot for best halloween costume? The same reason Lady Gaga and Britney Spears would have captured the top spot in years past: variety. Literally every music video or awards show is a costume opportunity. You could be Candyland Katy or Army Katy or Smurf Katy or Peacock Katy or (my personal favorite) Kathy Beth Terry from Last Friday Night. You can't wrong with a mouth full of metal and neon eyeshadow.
Costume with Most Pop Culture Relevance: PSY from Gagnam Style
This costume is easy and will certainly earn you points for out of the box thinking. Even better, when the song comes on, all eyes will be on you and your sweet moves. Excuse me while I go watch the music video another 50 times…
Most Badass Costume: M.I.A
I'm going through a serious M.I.A phase right now. Beyonce was definitely in the running for this spot, but M.I.A wins bonus points for originality. I get the feeling that on Halloween night, I will see at least 20 girls dressed up in full "Single Ladies" attire. I hope to maybe see at least one though in a geometric jumpsuit, bright lipstick and some chains… or you know, a polka dot body suit if you're feelin' fly.
Easiest Costume to Throw On When You're Running Out The Door: a tie between Lana Del Rey and Jess from New Girl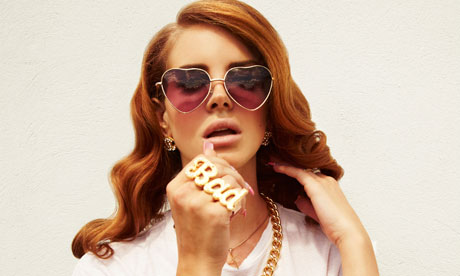 Grab your large barrel curling iron, eyeliner, lip liner and the most Lolita outfit you can find and you're set to be this melancholy songstress for the evening. Even better, in Lana Del Rey's latest music video, she wears a white tshirt and cut offs and seduces a biker gang of greasy old men. So if you own a white tee and cut offs, you too could be Lana.
On the opposite end of the spectrum, Jess from New Girl is another personal favorite of mine. Probably because Zoe Deschanel is the closest thing I have to a celebrity idol, and I am already convinced I am Jess from New Girl when life gets really hectic and I just want to sing to people or tap dance or make light of an awkward situation too soon before it's appropriate. So yeah, grab some glasses, throw on a ModCloth inspired ensemble and be everyone's favorite primetime hipster.
I have at least 7 more costumes to write about, but that would be too easy so… teaser alert, stay tuned for Halloween Inspiration: Part II for more fun and creative ideas! If you have your mind made up on a costume already, good job, I commend your holiday spirit. Share any thoughts or inspirations with me via twitter or in the comments below. Goodnight to all of my ghouls and goblins!
♥